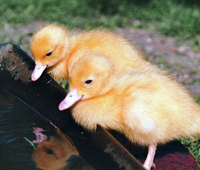 DUCK STARTER FEED
If you have the right start, you will end right...
The DUCK STARTER FEED is a complete feed prepared to supplement the nutritional requirements of young ducks. Presentation in crumbled form is ideal for small birds. High protein level present is essential for development of young birds. Superior quality of raw materials, vitamins and minerals from reputed manufacturers are used.
Suitable Species:
Specific feed for all varieties of young ducks living in restricted environment.
Feeding Instructions:
Give the feed liberally from birth until the third week of life. After that give GROWER FEED. Complete the diet with clean fresh water.
Presentation:
Crumbles. Available in bags of 30 kg and 50 kg.
Specification:

| C.P. | C.Fat | C. Fiber | Ca | P |
| --- | --- | --- | --- | --- |
| 22% | 2.95% | 3.61% | 0.85% | 0.90% |
10-12-2013
Fujairah Feed Factory is a leading company in UAE, established in 1993, 100% owned by local capital,specialized in manufacturing all kinds of pelleted animal feed.